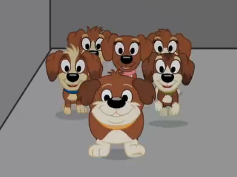 6 puppies
 appeared in "
Lucky the Dunce
."
The fat puppy was voiced by John DiMaggio, and another was voiced by Alanna Ubach. The other four did not have speaking roles.
They were brought to the Shelter 17 by Officer Ketchum. They had previously been at the Uptown, Vet City, and Southeast Mid-central Pounds. In order to avoid them getting transferred to Sunshine Springs (a pound out in the middle of nowhere) Lucky had a plan to get all six of them adopted, but complications arose when the beam from Strudel's Laser machine accidentally hit Lucky in the head, causing him to become a goofy simpleton.
Ad blocker interference detected!
Wikia is a free-to-use site that makes money from advertising. We have a modified experience for viewers using ad blockers

Wikia is not accessible if you've made further modifications. Remove the custom ad blocker rule(s) and the page will load as expected.