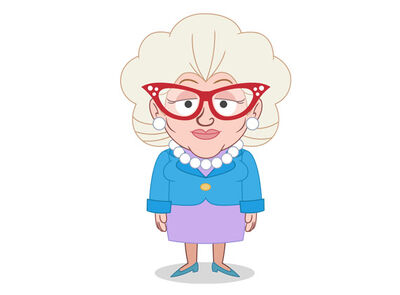 Agatha McLeish
 is 
Leonard McLeish's
 wealthy mother who, at first, despised dogs. However, 
Rebound
 made her change her mind.
She was mentioned in "The Prince and the Pupper" by Rebound and in "Lucky Gets Adopted" by Niblet through Woof-Bark-Tooth Day.
In "My Fair Rebound", she is at a tea party with Sterling Von Oxnard's owner Mildred, talking about he and Rebound training for the dog show.
In "Zoltron", she and Rebound are attend a science fiction convention, both dressed like aliens.
In "Bone Voyage", she was on a cruise ship without Rebound until she missed her so much she had her butler pick her up and take her back.
In "The Fraud Princess", Agatha has a new boyfriend, Wally Banks, who left his dog Princess with Rebound as a playmate. In truth, Wally and Princess were planning to rob Agatha so they could gain their money back after the market went bad. Despite this, Agatha forgave Wally and started helping him get back on his feet.
She made a brief appearance in "Beauty is Only Fur Deep."
She appeared in "The Truth Is in Hear", having been called to Shelter 17 by McLeish, who believed he had discovered the dogs were aliens. With no evidence, Agatha thought her son was being delusional, and had embarassed himself in front of the TV crew he had also summoned.
[1]Agatha with Rebound and Mr. Julius.[2]Agatha and Rebound. Add a photo to this gallery==External linksEdit==