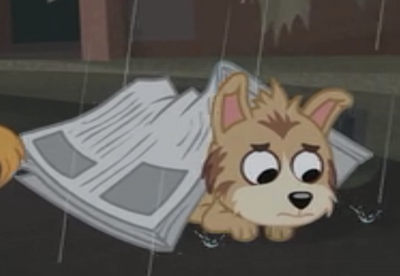 Bumper
 is a puppy that appeared in "
Hello Kitten
 ".
Bumper is a tan and brown puppy. He first met Spoons on the street when they were younger. He became her adopted brother and they stayed together.
Bumper was later adopted without Spoons, which led to her being turned in to theKennel Kittens. However, due to the Kennel Kittens being averse to mingling a dog with a cat, Spoons could not be housed with Bumper. Later, the Super Secret Pup Club would help bring Spoons and Bumper back together.
Ad blocker interference detected!
Wikia is a free-to-use site that makes money from advertising. We have a modified experience for viewers using ad blockers

Wikia is not accessible if you've made further modifications. Remove the custom ad blocker rule(s) and the page will load as expected.