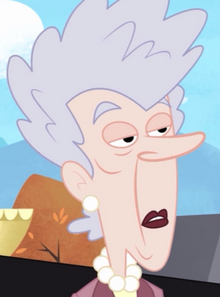 Mildred Abernathy is an old friend of Agatha McLeish who appeared in "My Fair Rebound", and is the owner of Sterling Von Oxnard. She was voiced by Katherine Helmond.
She later made a brief appearance (along with Sterling) among a crowd in "Squawk."
In "Beauty is Only Fur Deep", Agatha mentions that Mildred has a son named Seymour who is a successful body builder and bank president.
Ad blocker interference detected!
Wikia is a free-to-use site that makes money from advertising. We have a modified experience for viewers using ad blockers

Wikia is not accessible if you've made further modifications. Remove the custom ad blocker rule(s) and the page will load as expected.