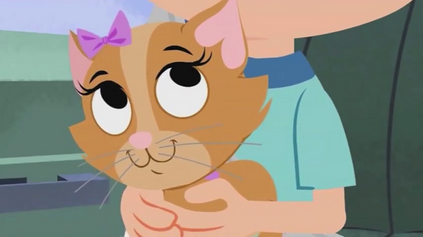 Mittens is a tabby kitten who appeared in "Catcalls." theKennel Kittens brought her to Becky's brother (Who briefly renamed her "Stripe" despite the fact that she doesn't have any stripes.), while the Pound Puppies brought Becky a puppy named Wagster. Mittens was first seen on her and Wagster's perfect person's front porch with Ace, Lucky and Wagster, asking Ace nervously if he and Lucky were going to fight. "You guys aren't gonna fight are you Ace?" Ace told her not to worry.
Ad blocker interference detected!
Wikia is a free-to-use site that makes money from advertising. We have a modified experience for viewers using ad blockers

Wikia is not accessible if you've made further modifications. Remove the custom ad blocker rule(s) and the page will load as expected.