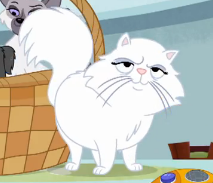 Puss Puss Galore is a rogue Kennel Kitten who appeared in "The Pups Who Loved Me." She was voiced by Tress MacNeille.
Profile Edit
Edit
Puss Puss Galore is Bondo's arch nemesis. She tried to use Yakov to sabotage a top-secret dog food factory, but thanks to the work of Bondo, Lucky, and the pup club, her plans were foiled.
Notes Edit
Edit
Puss Puss Galore is a parody of the James Bond villain Pussy Galore.
Ad blocker interference detected!
Wikia is a free-to-use site that makes money from advertising. We have a modified experience for viewers using ad blockers

Wikia is not accessible if you've made further modifications. Remove the custom ad blocker rule(s) and the page will load as expected.