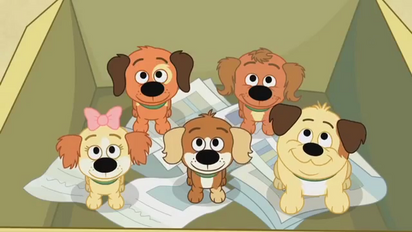 Whip, Tip, Blip, Flip, and Chubbers are five puppy siblings who appeared in "Quintuplets."
Whip and Tip were voiced by E.G. Daily.
Flip and Blip were voiced by Kath Soucie.
Chubbers was voiced by Alanna Ubach.
Profile Edit
Edit
The Pound Puppies found the Quintuplets in a box on the street, and set out to find them homes. A problem arose when the Quintuplets refused to be seperated. During several hijinks, each of the Quintuplets met with a boy that seemed to match up well with each of them. When the Pound Puppies followed the boy home, they discovered that he was one of five brothers, each of whom the individual Quintuplets had met before, allowing the Quintuplets to stay together and have a loving home.
They briefly appeared in Patches' version of their episode's events in "The Super Secret Pup Club."
They later made an appearance in "I Heard the Barks on Christmas Eve", although Chubbers was the only one referred to by name.
Trivia Edit
Edit
Three of the quintuplets (the leader, the dealer, and the scientist) have the same voice actors as 3 of the babies from Rugrats (Tommy, Phil, and Lil). On a related note, the voice director for Pound Puppies, Paul Germain, also co-created Rugrats.
The spot on Blip's face looks almost exactly like the Hub Network's logo.
The five of them are very similar to the main characters of the series (such as Chubbers having the goofy personality and big appetite like Niblet and Whip being the leader of his siblings like Lucky). And Tip is both the toughest of the litter and the only girl.
Anyone else think the quintuplet kids should've been four boys and a girl like the pups?