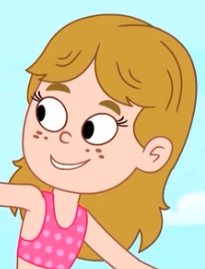 Tabitha is a little girl who adopted Zipper in "Zipper the Zoomit Dog." Tabitha was voiced by Grey DeLisle.
Profile Edit
Edit
Tabitha loved playing with her zoomit (flying disc) and bonded with Zipper when she found her on the beach. Realizing that they were perfect for each other, Tabitha's mom let her keep Zipper.
See also Edit
Edit
Ad blocker interference detected!
Wikia is a free-to-use site that makes money from advertising. We have a modified experience for viewers using ad blockers

Wikia is not accessible if you've made further modifications. Remove the custom ad blocker rule(s) and the page will load as expected.