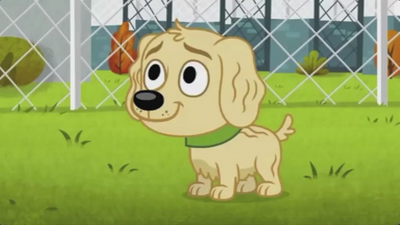 Vanilli
 was one of several  puppies who were brought to 
Shelter 17
 by their owners after their landlord, 
Mr. Grubo
, instituted a "no dogs allowed" rule. He was voiced by 
E.G. Daily
.
When Vanilli was first brought to the pound by his owner Billy, he believed it was a "puppy hotel", especially when he was joined by his fellow apartment puppies Nougat and Farfel. He was devastated when he discovered the truth. He later led the Pound Puppies to the apartment building, where they eventually solved the problem, allowing Vanilli to return to Billy.
Ad blocker interference detected!
Wikia is a free-to-use site that makes money from advertising. We have a modified experience for viewers using ad blockers

Wikia is not accessible if you've made further modifications. Remove the custom ad blocker rule(s) and the page will load as expected.